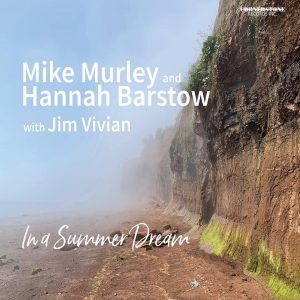 (click on image to order)
Juno award winning saxophonist Mike Murley co-leads his latest release with one of the brightest lights of the next generation of Canadian jazz artists, vocalist/pianist/composer Hannah Barstow. Jim Vivian, bassist and long-time Murley collaborator, completes the trio on this intimate recording of standards and originals. Both leaders contribute a new composition to a set of instrumental and vocal music featuring repertoire by Michel Legrand, Kenny Wheeler, Nat Adderley, Johnny Mandel and Martin Rojas.
Click on link to read/hear recent Jazz.fm interview
Tracklist
1. Don't Look Back
(J. Mandel, K. Dunham) 5:35
2. Who Are You
(K. Wheeler, J. White) 6:03
3. Sprawling Space (M. Murley) 7:40
4. The Old Country
(N. Adderley, C. Lewis) 5:58
5. Once Upon a Summertime (M. Legrand, J. Mercer) 4:27
6. I Will Wait for You
(M. Legrand, N. Gimbel) 5:07
7. En la Orilla del Mundo (M. Rojas) 6:08
8. In a Summer Dream (H. Barstow) 5:15
For more info:
____________________________________
CORNERSTONE RECORDS INC.
Email: [email protected]
Website: www.cornerstonerecordsinc.com